Frisco, Colorado is a picturesque mountain town with an array of attractions to suit any taste; its diverse climate ensures year-round enjoyment.
Whether you're looking for outdoor activities or just some rest and relaxation in the Rocky Mountains, Frisco can provide it all – but what about the climate?
The climate in Frisco, Colorado varies throughout the year from hot summers to cold winters with plenty of rain and snow thrown into the mix. With an altitude of 9097 feet above sea level, this charming mountain town experiences drastic temperature changes between day and night as well as seasonally.
So how hot does it get during the summer months? How much snow does Frisco receive each winter? Does it rain often enough to keep everything green?
These are all important questions when considering relocation to this unique area so let's take a look at what the year-round climate is like in Frisco Colorado.
Table of Contents:
Frisco, CO Climate: A Year-Round Guide
---
What is the climate like in Frisco Colorado?
Frisco, Colorado is a mountain town located in Summit County and offers beautiful views of the Rocky Mountains.
The climate in Frisco is considered to be a humid continental climate with cold winters and warm summers. Temperatures in Frisco during the wintertime generally span from highs of around thirty degrees to lows close to zero Fahrenheit. Snowfall averages around 100 inches each year, making it an ideal destination for skiing and snowboarding enthusiasts.
In terms of temperature during summer months, Frisco's average high-temperature ranges between 75-80°F (24-27°C). While there are occasional hot days that reach into the 90s (32°C), these occurrences are rarer than cooler days due to its elevation at 9097 feet above sea level.
Rainfall is light throughout most of the year but does increase during the monsoon season which runs from mid-July through early September bringing more frequent thunderstorms with hail or rain showers lasting anywhere from minutes to hours at a time.
The climate in Frisco Colorado is mild and pleasant, making it an ideal place to live. Moving on, let us examine the summertime temperatures in Frisco to further understand its climate.
How hot does it get in Frisco?
Frisco, Colorado is located in the heart of Summit County and has a moderate climate. The average high temperature during summer months ranges from 70-80 degrees Fahrenheit with lows around 40-50 degrees. Wintertime brings chillier temps, usually staying above the 0°F mark but dropping to an average of 20-30°F.
The altitude of Frisco is 9097 feet which means that even on hot days it's not too unbearable due to the lower humidity levels. On cold days you'll want to bundle up as wind chill can make temperatures feel much colder than they actually are.
What are summers like in Frisco, Colorado?
In the summer months, Frisco typically experiences temperatures in the high 70s and low 80s. However, winters are generally milder than in other areas of Colorado due to its location near Lake Dillon. Next, let's discuss the amount of snowfall Frisco gets annually.
---
Have some questions about what it's
really like to

live

in Colorado?
---
How much snow does Frisco Colorado get a year?
Many flock to Frisco, Colorado for its potential as a new home due to the town's attractive natural features. With its picturesque alpine vistas and numerous opportunities for recreation, Frisco is a prime destination for those wishing to make Colorado their home. But what about the climate? How much snow does Frisco get each year?
The average annual snowfall in Frisco is around 159 inches. This amount of snow falls throughout the winter months from November through April. Typically, March is the month with the most snowfall, typically averaging around 24 inches (60 cm). On average, winter snowfall accumulations ranging from 150-160 inches in most regions.
Frisco, situated at a lofty 2,773 meters (9097 ft), takes advantage of more abundant precipitation such as sleet and freezing rain that can easily transform into snowflakes once the temperature falls below 0 Celsius (32 Fahrenheit).
The area's close proximity to ski resorts like Copper Mountain and Keystone Resort also allows them the added bonus of lake effect snows originating from Lake Dillon which can be heaped onto existing storms causing even greater accumulations than normal.
On some occasions, these conditions will persist long enough for Frisco to amass more than 160 inches (406 cm) during a single winter season.
Overall, when considering relocation to Frisco Colorado you should be prepared for cold winters with plenty of powdery white flakes falling from above providing great opportunities for skiing and other outdoor recreational activities. Make sure you have all your proper gear ready beforehand.
Key Takeaway: Frisco, Colorado is an ideal location for winter sports enthusiasts due to its annual average of 75 inches (190 cm) of snowfall. Occasionally, the snowfall can reach more than 160 inches (406 cm), so if you're into winter sports, Frisco is an ideal spot – make sure your equipment is ready.
Does it rain a lot in Frisco?
But what about the weather? Does it rain a lot in Frisco? The answer is yes, but not as much as you might think.
The average annual precipitation in Frisco is approximately 19 inches per year. Yet, the majority of this moisture is experienced during the colder period from November to April when temperatures are less warm and more apt for snowfall than rain.
During these months, Frisco typically receives around 150-160 inches of snow each year with some years receiving more depending on conditions such as El Nino or La Nina events that can cause increased moisture levels over the region.
Frisco usually only experiences a meager 19 inches of rainfall annually, making it comparatively dryer than other parts of the United States averaging 38.1 inches received yearly. Despite this lower amount of rain though, there are still times throughout the summer months when storms can bring heavy rains lasting anywhere from several hours up to multiple days at a time so be sure you're prepared if you plan on visiting during those times.
In addition to being a relatively dry area overall, Frisco also has an altitude that ranges between 9097 and 9200 feet above sea level. This makes it one of the higher-elevation towns located within Summit County along with nearby Breckenridge and Copper Mountain resorts which sit even higher at nearly 10000 feet above sea level.
This high altitude means there is less air pressure, causing water vapor molecules in clouds passing through these areas to evaporate faster resulting in less precipitation falling out before reaching ground level – something else worth considering if you're planning on relocating here.
Key Takeaway: Frisco, Colorado is renowned for its beautiful scenery and spectacular mountain vistas. It receives an average of 19 inches of precipitation via rain annually. Snow from November to April with only accumulates at an average of 159.4 inches. The high altitude in Frisco also contributes to less water vapor reaching ground level due to faster evaporation rates in the atmosphere above it.
---
Are you considering moving to Colorado?
Here's what you should know about The Smits Team:
The top-producing real estate group in all of Colorado for EXP (150+ million in transactions last year alone)
17 full-time agents with a combined wealth of unique knowledge
Cutting-edge marketing strategies, always getting you the best price quickly
Excellent communication & stress-free home buying process

Highly recommended by past clients

and a proven track record of success
We believe the home buying process doesn't have to be hard. Contact us here to find your dream home in Colorado.
---
What is the altitude of Frisco CO?
Frisco, Colorado is situated in the middle of Summit County and boasts one of the greatest heights among towns across America. It has an elevation of 9,097 feet above sea level, making it one of the highest incorporated towns in North America. This high altitude gives Frisco a unique climate that can be quite different from other parts of Colorado.
Due to its high elevation, Frisco receives more snow than many other places in Colorado. This makes for great skiing conditions throughout much of December through April each year as well as plenty of opportunities for snowshoeing, sledding, and tubing activities all winter long. Additionally, due to its higher elevation, there is less rain than in lower areas so if you're looking for sunny days (241) then Frisco could be a great place to live or visit.
Overall, Frisco's high altitude provides residents with cooler summers compared to other parts of Colorado, which helps keep temperatures comfortable throughout most months of the year. It also offers plenty of outdoor activities such as skiing and hiking due to its heavy amount of snowfall every season.
Conclusion
Frisco, Colorado is a great place to live due to its diverse climate. Frisco's temperature typically varies from 50-80 degrees Fahrenheit, rarely experiencing extremes for long periods of time, and is complemented by an average yearly snowfall of 159 inches and 19 inches of rain during the spring.
Frisco also receives an average of 159 inches of snow per year which makes it perfect for skiing and other winter activities. Rainfall averages around 19 inches annually with the most rain occurring during springtime. Additionally, Frisco has an altitude that varies between 9097 – 9200 feet above sea level making the air crisp and clean all year round.
All these factors make the climate in Frisco Colorado ideal for those looking to relocate here permanently or just enjoy some time away from home.
---
Considering relocating to Colorado?
Meet Colorado's Top Producing EXP Real Estate Group: The Smits Team
(we did over 150 million+ in transactions last year alone…)
See more of the Smits Team's five-star reviews on

Google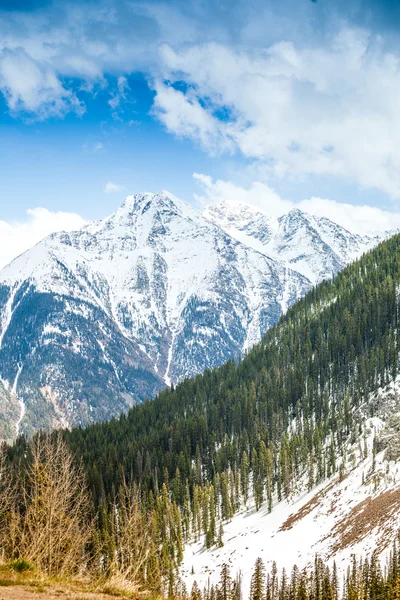 The Smits Team
The mountains of Colorado hold endless possibilities for all who visit. Whether you come for the skiing, rafting, biking or just to admire the incredible beauty, sooner or later you are going to want a place to hang your hat.
Our team of professional agents understand, as we arrived here from all areas of the United States and abroad.
Here at The Smits Team share your passion for the mountains, Summit and Eagle County real estate, and we are excited to make your dream of homeownership a reality.
Try us out… we won't disappoint! — (don't take our word, read our 50+ Five-Star Google reviews)
Have some more questions about what it's
really like to

live

in Colorado?
---
FAQ
Q: What is the climate like in Frisco, Colorado?
A: Frisco has a mild climate year-round.
Summers are warm and sunny with temperatures reaching into the mid-80s Fahrenheit (30 Celsius). Winters are cold but not extreme, with temperatures usually staying between 20 to 40 degrees Fahrenheit (-7 to 4 Celsius).
The area gets an average of around 300 days of sunshine each year.
Q: How much snow does Frisco get?
A: Snowfall varies from season to season, but generally speaking you can expect about 10 feet (3 meters) of snow annually in Frisco.
It's enough for plenty of winter fun at nearby ski areas such as Copper Mountain Ski Resort or other popular Colorado towns like Breckenridge and Vail.
Q: Are there any natural attractions near Frisco?
A: Yes!
The Blue River runs through town, providing excellent fishing opportunities and stunning views along its banks. There are also several hiking trails located nearby that offer great outdoor activities during all four seasons.
Plus, if you're looking for some adventure beyond skiing or fishing, there's always white water rafting on the Arkansas River just south of town!
Q: Is it windy in Frisco?
A: Wind speeds vary throughout the year but tend to be higher during spring months when gusts can reach up to 30 mph (48 kph).
However, most days have light breezes that make it a perfect place for kite flying or sailing on Lake Dillon.
---
Find the market value of your home for FREE!
More information on The Smits Team
---